48 Songs about Cowboys (Traditional, Modern, Pop & More)
The image of a cowboy is a powerful one, tied in intrinsically with the American spirit.
In fact, cowboys and the United States are so closely linked that it's impossible to think of America without imaging those wild men taming the west and paving the way for the America we know.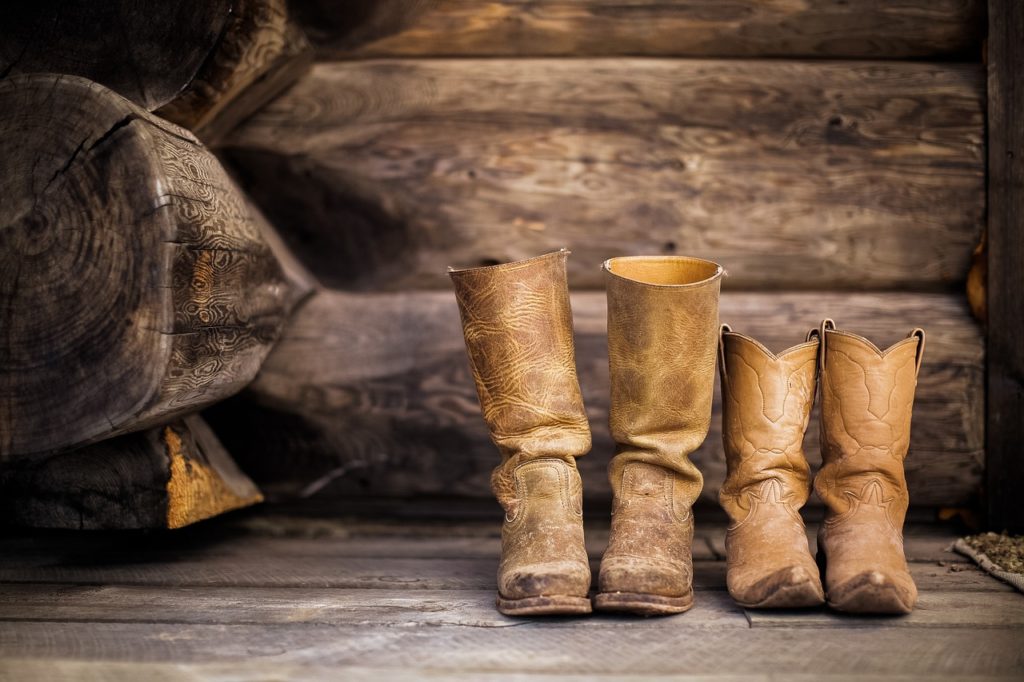 I. Traditional Cowboy Songs
A traditional cowboy song speaks to the romance and drama of the old west and gives us a sense of longing and desire for a time more spartan than the one we find ourselves in today.
1) The Last Cowboy Song
The Highwaymen were a supergroup formed by some of the greats of the country scene; Johnny Cash, Willie Nelson, Waylon Jennings, and Kris Kristofferson. You can't get closer to the traditional cowboy than that!
2) Back in The Saddle Again
3) Goodnight Irene
4) Patrick
5) The Vaquero Song
6) Someday Soon
II. Modern Cowboy Songs
Country music, and the cowboys that sit central to the genre, have been swift to change with the modern world while still maintaining their original charm and sound.
The subject matter of the tracks may change somewhat, but the sounds remain the same.
1) Cowboy Like Me
2) Cowgirl Ballade
3) Like A Cowboy
4) Broken Cowboy
5) Hippies and Cowboys
6) A Few More Cowboys
III. Pop Cowboy Songs
1) Welcome To the Future
2) Queen of Hearts
3) I Hope You Dance
4) Before He Cheats
5) Follow Your Arrow
6) Mean
IV. Country Cowboy Songs
1) Cowgirls Don't Cry
2) How About Them Cowgirls
3) Buckaroogirl
4) Mammas don't let your babies grow up to be cowboys
5) That's why God loves cowboys
6) God must be a cowboy
V. Classic Cowboy Song
1) I Want to Be a Cowboy's Sweetheart
Patsy Montana's quintessential classic cowboy song, I want to be a Cowboy's Sweetheart, speaks to a simpler time in the United States. This song asks that Patsy be the love of a physical cowboy and speaks to the need to attain the cowboy lifestyle.
2) My Heroes Have Always Been Cowboys
Part of the movie's soundtrack from where the track gets its name, it spent two full weeks at number one on the Country Charts.
3) El Paso
4) In the Real West
5) High Noon
6) South Coast
VI. Love Cowboy Songs
Love is a major theme in many cowboy-related songs, mainly female musicians. In most cases, the artist is pining over a love that does not yet exist, and the object of their desires is most an ethereal idea of what it is to be a cowboy.
1) A Cowboy's Ways
2) Cowboy, Take Me Away
3) Cowboy Casanova
4) I Want a Cowboy
5) Rodeo and Juliet
5) Rodeo and Juliet
6) Renegade Runaway
VII. Rap Cowboy Song
1) Save a Horse, Ride a Cowboy
This clever song by Big and Rich takes a slightly different approach to the Cowboy ideal. Instead of focusing on the stoic and dependable nature of the Cowboy, this duo invites us to hop on and spread some love for them, focusing more on the play on words than on the cowboy themselves.
2) Ghetto Cowboy
3) Old Town Road
A genuinely visionary song in our time, Old Town Road is the very first single that Lil Nas brought to mainstream media, cementing Country Rap and Country Trap as viable musical genres.
4) Cowboy
5) The Git Up
6) Country Rap
VIII. Cowboy Titled Songs
1) Rhinestone Cowboy
In this song, Campbell presents us with the vision of an adored cowboy, as spangled as the flag that undoubtedly flies above him.
2) This Cowboy's Hat
3) Cowboys and Angels
4) Space Cowboy
5) Ain't Always the Cowboy
6) When a Cowboy Trades His Spurs for Wings